10 Best Practices to Improve Your E-Commerce Website
Ecphasis Infotech
13th, May 2019
E-commerce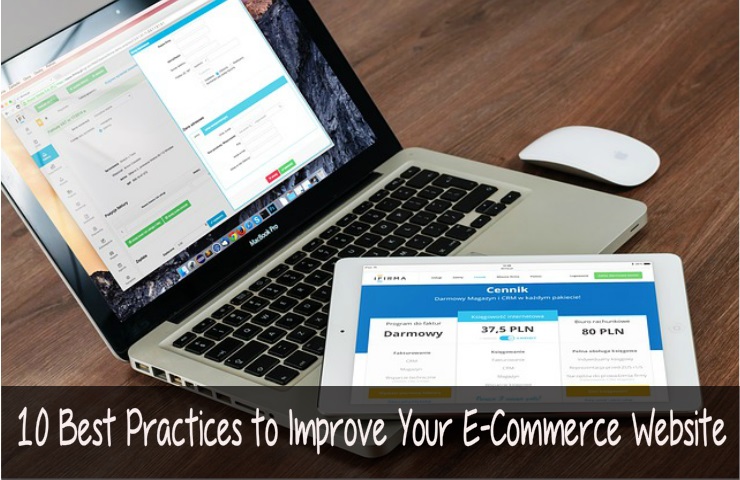 Everyday a consumer's experience with the marketplace becomes more mobile, social and visual, which helps to improve the process for customers and complicate the process for business owners trying to keep up with latest developments in e-commerce as they grow their business.
There are many features that should be incorporate in your e-commerce website, but it is important to focus your efforts in the beginning to ensure you can scale your business online to add more features in the future.
Here are ten best practices for improving your e-commerce website and taking your business to a new level:
1. Use Beautiful Photography for Your Products and Services
It may seem like a no-brainer, but you would be surprised by the amount of companies that don't have appealing images of their products and services. Having the right images of your offerings could be the difference between someone becoming a customer and deciding to move on to another website.
Having beautiful photography doesn't mean you need to hire a really expensive photographer, but it does mean a time investment in capturing the right photos of your various products or services to help incite people to look through your offerings and buy.
Product photos should give a high level view of a product, as well as a close up detail shot, as well as multiple different angles of the item to ensure a person can see as much of it as possible since they are shopping online. Try to create a consistent look and feel across all the photography used on your e-commerce website to help make the experience of browsing and shopping more enjoyable.
2. Merchandize Your Products and Services
Merchandising matters because it affects ⅔ of all sales. Along the same lines of keeping things consistent, merchandizing the different categories of products and services on your website can be quite helpful for the overall experience with your company online. Group your products and services in categories based on how your products are used and what other products are most often used with them. For instance, if you are a clothing retailer then it would be prudent to group sandals and shoes together, but keep pants and stockings in a category of their own.
In the end, merchandising is all about designing an enjoyable experience for you customers to ensure that your website is usable for their shopping needs. Make sure all the relevant information about your products and services is eye-level in every category and that you're never making your customers search for the information they need to make an informed decision about your product.
3. Make Your Website Easy to Navigate
Ensure that the structure of your website is organized in such a way that it is both easy for visitors to browse and easy for search engines to understand. The point of having a website that is organized neatly is to make sure it is always clear where your visitors are on the website, it is easy for visitors to find what they are looking for and that it is easy to see what their other options are for related products or services. Make sure visitors have the option of taking many different actions with the persuasion of strong calls to action.
Submitting a sitemap of your existing structure can help the search engines better map out how your website is organized. This is important in terms of visibility, since usability is one of the many factors the major search engines take into consideration when ranking the quality of a website. Organize your website into different high level categories and then from there, into smaller sub categories that fit within each larger category of your website.
4. Deliver One of a Kind Customer Service
Having world class customer service can help blow your competition out of the water with your customer base and improve each visitor's experience with your website. It is hard to stand out from the competition online today since there are many options for consumers to choose from, but making the experience with your company enjoyable can help your business stand out online.
When it comes to customer service, think outside the box and look into how you can improve the usability of your website by helping your customers throughout every part of the sales funnel. Whether it is 24/7 e-mail and phone support or using a chat service like LivePerson or Bold360 to directly chat with your customers if they need any advice or have any questions as they shop, your business must provide support before, during, and after it is needed to make customers happy. The more helpful your team is to your customers and the more information your customer base is empowered with, the more likely your customers will be happy with your company and purchase your offerings over others.
5. Optimize Your Website for Search Engines
The process of driving more traffic to your website from the search engines is known as search engine optimization. The search engines work to help people find the information they are looking for on the web by matching their searches with the most quality results. The best way to approach SEO for your e-commerce store is to ensure that your website structure is usable, you're constantly creating content for your blog, and that you're correctly naming the pages of your website with accurate keyword rich titles and descriptions that work for both the user and the search engines.
For example, if you sell running shoes you would want your products to rank highly for keywords related to running shoes in Google results. The best thing a business can do when it comes to optimizing their website for search engines is to continually create original and exciting content for your audience. For this example, writing articles about your latest running shoes or the industry of running shoes could help increase your visibility in the search engines as well as educate your customers about this topic and related keywords.
6. Use Pay Per Click Advertising as a Balance to Search Engine Optimization
Pay per click advertising is similar to search engine optimization except it is paid ads in the search engines as opposed to organic listings. Pay per click advertising is present at the top of the search results for different groups of keywords that advertisers specify at the beginning of a campaign.
For many companies, pay per click advertising is a complement to their SEO efforts that reap results in the long-term, while PPC can return results in the short-term since they are paid for. SEO can be best described as an oven, since it heats up overtime and takes awhile to cool down. PPC is more like a microwave that heats up quickly and cools down quickly. When spending on PPC your ads turn on immediately, but they turn off just as quickly when the campaign is complete, losing all your company's rankings for particular keywords that were paid for through PPC. Decide how to properly balance your SEO and PPC activities to get the most visibility and best value for your efforts.
7. Use Social Media Marketing to Talk with People and Share Your Best Content
Social media is obviously an effective way to get the attention of an audience by sharing quality content and having interactive conversations. At times social media can be extremely overwhelming for many business owners due to the number of channels to pay attention to and the constant updates on how to use each channel properly.
If you are struggling with social media, focus on three key areas: promotion, customer service, and measurement. Use major social networks like LinkedIn, Twitter, and Facebook to promote your best content, products, and services a few times a week on each channel. Don't feel pressured to post to each channel more than a few times per week due to any limitations in time, spend, or man power. Use social media to offer support to your customers and listen to what they have to say. It is not enough to share your content, but also interact with the content your audience is sharing about you. Lastly, look to measure your social media efforts to see what is working for your business and what isn't on each social platform.
8. Build a List Loyal of Customers Using E-mail Marketing
Give value to visitors and existing customers that are exclusive to your company's e-mail list to help incite sign ups. Begin by offering exclusive specials, sales, discounts, and content to e-mail subscribers that can't be found on your other marketing channels. It is important to incorporate a wide-range of messaging with your e-mails to give a healthy variety of promotions, product updates, news, industry content, and more.
Having a strong e-mail list is important for the continued growth of your business because your e-mail list is the most likely channel to convert subscribers into customers. Also the direct line of communication, a person's inbox, is a powerful way of building a strong connection with your customer base that can help lead to long-term customer retention.
9. Master A/B Testing to Find Out What Works Best on Your Website
A/B testing is the process of testing two different versions of the same web page to see which features are the most appealing to your web visitors. Frequently test your website's landing pages, home pages, and different features to see what your visitors are clicking on, what is leading to more conversions, and what is causing visitors to not make it through the sales funnel.
Start by testing one variable at a time, while keeping everything else completely consistent to determine if there is an actionable difference with one variable over another. Once you've decided on what feature to test, define what goals are a sign of success with this round of testing. It is most common to test conversions or click-through rates during A/B testing, be sure to stick with one metric for determining success. Often businesses design and craft their websites based off of what they think their customers want to see, when in actuality it's best to see what resonates with their visitors through their behavior you've analyzed through A/B testing.
10. Focus on the Right Copy
The copy used throughout your website must reflect your company's voice, as well as encourage visitors to take action to help drive sales. Highly converting copy reflects the voice and tone of your brand, highlights the benefits and unique features of your content, products and services, while encouraging the reader to take an action. To ensure your business has a cohesive approach to copy, incorporate the same voice and tone on your landing pages, product pages, social media posts, e-mail marketing, and anywhere else you're consistently engaging with your audience.
Use A/B testing extensively to understand what copy is working best with visitors across your website. Social media is also an effective way to test what copy about your business is sitting well with others by seeing what posts drive engagement and what posts do not with or without the use of certain copy. Last but not least, always ask yourself if your copy is offering a clear and valuable message to your audience.
What tips and tricks have you utilized to make sure your website is usable, visible and converting traffic into paying customers? Please share your favorite e-commerce tips in the comments below.
Share With: