E-commerce Website Development: A step by step approach to the successful e-store development and profit-making your online store
Ecphasis Infotech
04th, Mar 2020
E-commerce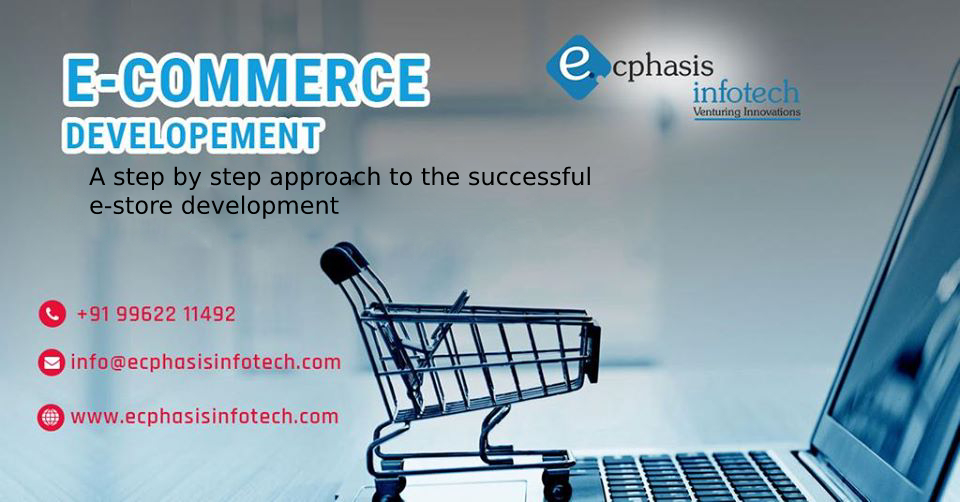 E-commerce Website Development: A step by step approach to the successful e-store development and profit-making your online store.
Commencing an E-commerce business requires time and hard work which involves a series of steps that need to come together in creating an exquisite e-commerce website for your tangible requirements.
This blog post helps you to explore the simplistic step-by-step approach to plan your professional online store and make it go live online.
Determining the product you want to sell
The foremost step to the development of your e-commerce website is determining which product you want to sell to your end-users. This step is the most challenging when it comes to anticipating the profitable running of the eCommerce business. Selling products can be categorized into two subdivisions.
An e-store selling particular line of products or services such as garments travel plans, fashion items, etc. and an e-store selling multiple items like electronics, home appliances, apparel, sports items (all these multifarious categories unified to your single e-store). So, at the beginning itself, it is important to decide on the product or service you would like to sell through your e-store. According to the local demand and a wide range of audience preferences, it is important to provide a product availability to them that would always ensure faster deliveries, easier payment terms, flexible return policies in case of wrong or defective shipments.
Deciding your business model
Sometimes it's skeptical to decide on to which business model to fit with. It comes in only two ways. Either you can sell the products through your online store or sell it via marketplaces such as Amazon, eBay, Flipkart, etc. Or you can utilize both these business models meaning that you can have your own e-store or sell it via marketplaces to the end-consumers.
Choose a Business Name & Domain Name
This is the crucial step of your E-commerce Website development. Once you have decided what product to sell on your e-store the next step is the determination of name for the business which is essential to book a domain name for your e-store. The domain name should be unique and should stick to the SEO guidelines for SEO purposes. While naming your business see whether it's relevant to the product you are selling and catchy for the audience to remember forever because the domain name is the identity of your business. Sharing a domain name in a unique format helps you to reach your target buyers easily and drastically. As per SEO, the SEO oriented domain names can help you reach the target audience and see improvements in the search engine rankings (i.e) a way to get ahead of the top position of the search engine result page. Got a domain name exclusively for your e-store means, start hosting it from the reliable hosting provider. Next comes the setting up of the e-store and hosting it live on the internet.
Setting Up Your E-commerce business or e-store
1. Designing Your eCommerce Store
The E-commerce website is nothing but it is your e-store or online store. In order to captivate or acquire the audience designing your e-store appealing, engaging, striking to your buyers is the most important to strive on. While speaking about the design of your e-store, it should possess all the contents and details about your saleable products and services. It should consist of image descriptions, comments, rating sessions for guiding prospective buyers to your e-store. You must make it certain that your products are clear-cut visible to your end-users and that the design should reflect your brand's representation and reach out to your online buyers.
2. Building your store
With a better understanding of the Google search engine, it's important to craft your e-store with SEO relevancy and simple for your buyers to navigate between the webpages, find the right product categories, flexible search functionality, filter the right product easily, and navigation between the menus. Easy checkout and secured transactions are the essential factors to build a robust and reliable e-store.
Want to build your e-store in a more secure, affordable, and user-engaging and onboarding manner? Ecphasis infotech is an established organization having 10+ years of experience in providing high-quality e-commerce solutions in designing and developing a rich functionality and high-performing e-store for your exact ideas and the eye-catching and appealing UI & UX of the e-store would engage and attract more users to your e-store.
Payment Gateway Integration
As far as concerning the online business, giving out a secured transaction means a lot. When paying money online every user would be concerned about money being securely transferred to the merchant account. Also, anyone would expect multiple payment options available for them to process the payment using any of their conventional methods. All these payment integrations help your customers make payments via credit card, debit card, online wallets, net banking, etc.
Securing E-Store by enabling SSL certificate
For the secured transaction of the payment online, there comes the need for securing the connection by means of a secured security layer (SSL). SSL certificate keeps your e-store duly protected from deceiving money by the intruders and keep it a trustworthy and building trust among your customers. Even Google has started to insist on an SSL certificate from securing the website from any data breaches or insensitivity.
Choosing your right Shipping Partner
You are set-out to selling products through your eCommerce website then you need to find the best shipping partner to ship those products to your customers' place with the help of courier services. These e-commerce service aggregators provide you multiple courier agency options with cost-effective shipping charges and so you can earn maximum profits from your e-store.
Takeaways
Having a great idea to start your own e-commerce business or set-out an e-store and start to sell your products online. Ecphasis infotech is one of the leading e-commerce website development in Chennai having years of experience in providing e-commerce solutions and the accomplishment of a wide range of e-store for multi-disciplinary industries. Want to build a high-performing and robust e-store? Share your requirements with our e-commerce development team experts and distinct professionals to help you in transforming your requirements to the best e-store.
Share With: