THE IMPACT OF AI ON DIGITAL MARKETING Agency: HOW WILL IT BOOST THE PROCESS?
ECPHASIS INFOTECH
25th, Aug 2023
Digital Marketing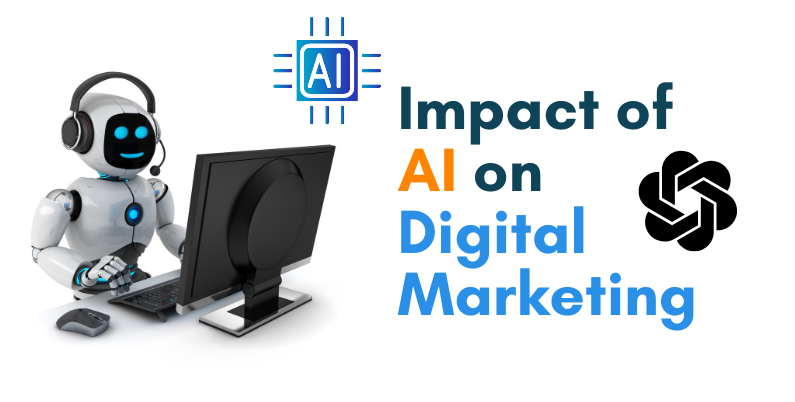 THE IMPACT OF AI ON DIGITAL MARKETING Agency: HOW WILL IT BOOST THE PROCESS?
In the dynamic realm of digital marketing, where staying ahead of the curve is crucial, Artificial Intelligence (AI) is emerging as a game-changer for marketing agencies. The fusion of AI and digital marketing is reshaping strategies, amplifying outcomes, and revolutionizing the way brands engage with their audiences. Let's delve into the profound impact AI is having on digital marketing agencies and how it's supercharging the entire process.
Enhanced Data Analysis and Insights:
AI-powered tools excel in processing colossal amounts of data at lightning speed. Marketing agencies can now gather, analyze, and interpret data from diverse sources, such as social media platforms, customer interactions, and website behaviors, to gain deeper insights into consumer preferences and behaviors. This data-driven approach enables agencies to make informed decisions, tailor strategies to specific audience segments, and refine campaigns for maximum impact.
Personalization at Scale:
The days of generic marketing are waning. AI empowers marketing agencies to create hyper-personalized experiences for customers on a large scale. By analyzing user data, AI algorithms can predict individual preferences and serve tailor-made content, product recommendations, and advertisements. This level of personalization boosts customer engagement, loyalty, and ultimately, conversion rates.
Optimized Content Creation:
Content is the cornerstone of digital marketing. AI tools can generate content, ranging from blog posts to product descriptions, by mimicking human writing styles. Agencies can use AI-generated content to fuel their content calendars, saving time and resources while maintaining quality. Furthermore, AI can assist in keyword optimization, improving search engine rankings and driving organic traffic.
Efficient Customer Service:
Chatbots and virtual assistants are transforming customer service interactions. AI-driven chatbots can provide instant responses to customer queries, streamline support processes, and ensure round-the-clock availability. This not only enhances customer satisfaction but also frees up agency resources for more strategic tasks.
Predictive Analytics for Targeting:
AI algorithms can predict future trends and behaviors based on historical data. Marketing agencies can leverage predictive analytics to identify potential leads, optimize ad placements, and allocate resources effectively. By targeting the right audience at the right time, campaigns become more efficient and cost-effective.
Campaign Optimization and A/B Testing:
AI-powered tools can continuously monitor the performance of marketing campaigns in real-time. They can automatically adjust variables such as ad placements, headlines, and targeting parameters to optimize campaign outcomes. This eliminates guesswork and ensures that campaigns are always fine-tuned for the best results.
Visual and Voice Search:
With the rise of visual and voice search technologies, AI can assist in optimizing content for these emerging search methods. Marketing agencies can ensure their clients' content is discoverable through voice-activated devices and platforms by incorporating AI-generated metadata and schema markup.
Competitive Advantage:
Agencies that adopt AI gain a competitive edge. They can deliver more efficient and effective solutions to their clients, leading to enhanced client satisfaction and retention. Moreover, as AI becomes increasingly integrated into marketing strategies, agencies that are well-versed in AI applications will be better positioned to take on new opportunities and challenges.
Conclusion:
In conclusion, AI is reshaping the landscape of digital marketing agencies by providing unprecedented tools and capabilities. From data analysis and personalization to content creation and predictive analytics, AI is boosting the entire marketing process. Agencies that embrace AI are not only streamlining their operations but also paving the way for more innovative and impactful strategies. As the digital marketing landscape continues to evolve, harnessing the power of AI will be more than just an advantage – it will be a necessity.
FAQ's
1. What is the role of AI in digital marketing agencies?
AI plays a pivotal role in digital marketing agencies by automating tasks, analyzing data, personalizing content, optimizing campaigns, and enhancing customer experiences. It enables agencies to work more efficiently and make data-driven decisions.
2. How does AI enhance data analysis in digital marketing?
AI can process large volumes of data quickly and derive meaningful insights. It helps agencies understand customer behaviors, preferences, and trends, which in turn enables them to create targeted and effective marketing strategies.
3. Can AI generate content for digital marketing campaigns?
Yes, AI-powered tools can generate content such as articles, blog posts, and product descriptions. While these tools are useful for saving time, human oversight is still essential to ensure the quality and relevance of the content.
4. What is the impact of AI on customer service for marketing agencies?
AI-powered chatbots and virtual assistants improve customer service by providing instant responses to queries, resolving common issues, and offering support 24/7. This enhances customer satisfaction and frees up agency resources.
5. How does AI enable personalized marketing at scale?
AI analyzes customer data to understand individual preferences and behaviors. This allows agencies to create highly personalized marketing campaigns, which can lead to better engagement, higher conversion rates, and improved customer loyalty.
Share With: