TOP 5 COMPANIES FOR SOFTWARE TESTING COMPANIES IN CHENNAI
ECPHASIS INFOTECH
28th, Jul 2023
Software Development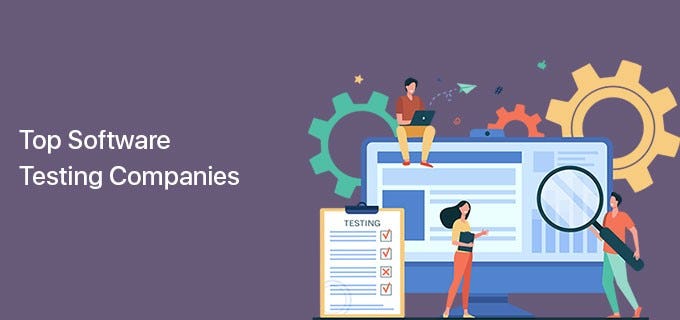 Top 5 companies for Software Testing Companies in Chennai
In today's fast-paced technological landscape, software testing plays a pivotal role in ensuring that software applications are efficient, reliable, and secure. The demand for high-quality software has led to the rise of numerous software testing companies, each vying to deliver cutting-edge solutions. In this blog, we will delve into the top five companies that have set the benchmark for excellence in the field of software testing. These companies have consistently demonstrated their commitment to providing top-notch QA services, helping businesses deliver flawless software products to their end-users.
1. Ecphasis Infotech
Ecphasis Infotech, a reputable software testing company, has made significant strides in the industry by providing a wide range of QA services. With a customer-centric approach, Ecphasis Infotech caters to businesses across various sectors, offering specialized testing services tailored to meet specific needs.
Their expertise in test planning, execution, and reporting ensures thorough quality assurance throughout the software development lifecycle. Ecphasis Infotech's team of skilled testers utilizes cutting-edge testing tools and methodologies to deliver accurate results and enhance the overall quality of software applications. Their commitment to excellence and client satisfaction has earned them recognition as a reliable partner for software testing needs.
2. Infosys
Infosys, a global IT services company based in India, has established itself as a frontrunner in software testing. With an expansive portfolio of software testing services, Infosys caters to various industry domains, including banking, healthcare, retail, and more. The company's innovative testing solutions encompass functional testing, performance testing, security testing, and test automation.
What sets Infosys apart is its focus on leveraging emerging technologies like artificial intelligence (AI) and machine learning (ML) to enhance testing efficiency. Their AI-driven testing platforms can analyze vast amounts of test data, leading to quicker defect identification and accelerated time-to-market for clients. Infosys's commitment to quality and its pool of skilled testing professionals make it a dominant force in the software testing arena.
3. Cognizant
Cognizant, a multinational IT services provider, has earned a prominent position in the software testing industry by delivering end-to-end quality assurance solutions. With a robust team of testing experts, Cognizant offers comprehensive testing services that cater to various stages of the software development lifecycle.
Cognizant's approach to testing emphasizes the use of automation and agile methodologies, enabling clients to achieve faster releases without compromising on quality. Their proficiency in performance engineering has helped many enterprises optimize their applications for superior user experiences. Additionally, Cognizant's specialized testing services for mobile, cloud, and IoT applications have garnered them recognition as a top-tier testing company.
4. IBM
IBM, a global technology and consulting company, has been a stalwart in the IT industry for decades. Leveraging its vast expertise in software development, IBM excels in providing top-of-the-line software testing services. Their comprehensive testing suite includes functional testing, regression testing, usability testing, and security testing.
What sets IBM apart is its focus on continuous testing and DevOps practices, which promote collaboration between development and testing teams, leading to faster and more reliable software releases. IBM's extensive research in AI and analytics also reflects in their testing solutions, as they harness data-driven insights to optimize testing processes. With a strong global presence and a legacy of innovation, IBM continues to be a go-to choice for businesses seeking dependable testing services.
5. Capgemini
Capgemini, a global leader in consulting, technology services, and digital transformation, has garnered recognition for its strong software testing capabilities. The company's testing services cover a broad spectrum, including functional testing, non-functional testing, and specialized testing for emerging technologies like blockchain and AI.
Capgemini's focus on customer-centric testing ensures that applications meet end-users' expectations and deliver seamless user experiences. Their expertise in test data management and test environment management enables clients to streamline testing processes and improve overall efficiency. With a vast pool of skilled testing professionals and a customer-centric approach, Capgemini secures its place among the top software testing companies.
Conclusion
The success of any software application is heavily reliant on rigorous and comprehensive testing. The top five companies mentioned in this blog have consistently demonstrated their commitment to delivering high-quality software testing services. These companies' emphasis on innovation, agile methodologies, and emerging technologies has helped businesses worldwide deliver flawless software products to their customers. As the software industry continues to evolve, these companies are likely to play an increasingly pivotal role in ensuring software excellence across various domains.
Share With: